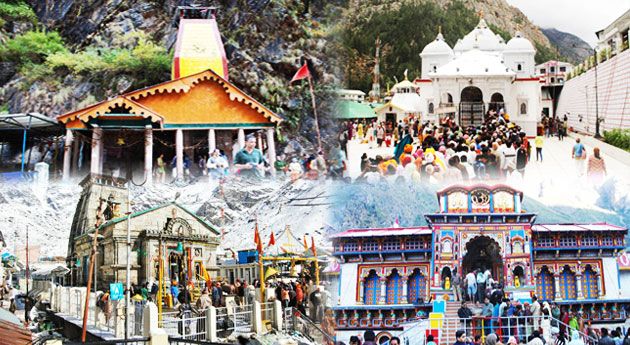 Char Dham Yatra Package from Haridwar
Duration 09 Night/10 Days Price 0
Package Details
Char Dham
Char Dham Yatra is one of the several divine Hindu pilgrimages consisting of 4 shrines called as Yamunotri, Gangotri, Kedarnath & Badrinath in Uttarakhand. It is believed that these sacred shrines occurred built by the great saint "Sri Adi Shankaracharya" through the 8th Century.
Choose from Char Dham Yatra Tour Packages that will take care of your entire pilgrimage in the several suitable & affordable way pleasant. For venerable also those with the time difficulty, we also give 2 Days Char Dham Yatra by Helicopter that covers Gangotri, Yamunotri, Kedarnath & Badrinath.
Each year as the snow flows in the topmost ranges of the Himalayas, the door for these Char Dhams is opened for the seasonal pilgrimage trips in the month of May. Char Dham Yatra travel continues until November. Later the snowfall in the month of November, the doors of Char Dham is closed during the next six months.
Char Dham Yatra is not a comfortable trek. Whereas Do Dhams - Yamunotri & Gangotri - are totally available for vehicles, the additional two of the Char Dhams - Kedarnath & Badrinath - expect a long trek to move to the shrine. Kedarnath Dham requires the longest also the toughest trek amidst all of them.
As per Hindu religion, a visit of Char Dham yatra once in a lifetime; not only transfer all your sins but also free your thought from the round of birth & death & brings your life to the heaven, which is acknowledged as "Moksha".
Package Itinerary
Day 01 : Arrival Haridwar - Barkot (213 Kms. 07 hrs)
Morning on arrival at the Railway station, meet & drive to Barkot via Mussoorie, En route see Kempty fall, following visit Kempty fall through the drive to Barkot. On arrival Barkot Check-In at the Hotel. Overnight stay at Hotel.
Day 02 : Barkot - Yamunotri - Barkot (42 Kms Drive / 6 Kms trek.)
Morning drive to Janki Chatti Via Hanuman Chatti & Phool Chatti. on arrival Janki Chatti starts Trek of 06 km toward Yamunotri, On Arrive Yamunotri Holy Bath in Garam Kund, than Pooja & Darshan of Shree Yamunotri Ji, following Darshan & Pooja, afternoon start trek back to Janki Chatti on arrival Janki Chatti meet with driver & drive back to Barkot. Overnight stay at Hotel.
Hanuman Chatti : The confluence of Hanuman Ganga & Yamuna River.
Yamunotri Temple : Maharani Gularia of Jaipur constructed this temple in the 19th Century. It was destroyed twice in the present century & restored again.
Surya Kund : There are a Number of warm sources in the region of the temple, which moves within various pools. The several majors of these are Surya Kund.
Divya Shila : A rock pillar admired before subscribing the Yamunotri Temple.
Day 03 : Barkot - Uttarkashi (Drive 82 Kms, 04 hrs)
Morning drive to Uttarkashi, en route visit Shri Prakateshwar Cave, devoted to Lord Shiva, Prakateshwar Cave just 100 Meter trek from Road, following darshan of Holy cave drive to Uttarkashi, Lunch Enroute, after Lunch drive to Uttarkashi. On arrival Uttarkashi Check-In at the hotel, evening visit Shree Kashi Vishwanath Ji Temple, Shakti Temple, later Divine darshan of Kashi Vishwanath Temple, return back to Hotel. Overnight stay at the hotel.
Uttarkashi: Established at the bank of river Bhagirathi. The temple of Lord Vishwanath is found here where a massive iron trident is organized. Other major temples located here are Bhairav, Ekadash Rudra, Gyaneshwar & Goddess Kuteti Devi.
Day 04 : Uttarkashi - Gangotri - Uttarkashi (100 Kms. per way)
Early Morning drive to Gangotri, en route at Gangnani, like a holy bath in Garam Kund than drive to Gangotri via excellent Harsil Valley, Harsil is popular for Nature Beauty, sumptuous sense of Deodar Tree & Mountains. On arrival Shree Gangotri, like a holy bath in the divine river, Ganges also called Bhagirathi at its source. Make Pooja & Darshan, behind that rest for some time in the beautiful surroundings. Afternoon drive back to Uttarkashi. Overnight stay at the hotel.
Gangotri Temple: The temple, built by the Gorkha General Amar Singh Thapa in the 18th Century, is established on the right bank of Bhagirathi.

Submerged Shivling: Submerged in the river, this natural rock Shivling is the spot wherever according to religion Lord Shiva sat while he accepted the Ganga in his matted lock. It is obvious in winter months when the water level decreases.

Kedar Ganga Sangam: About 100 Yards from the Ganga Temple continues the river Kedar Ganga. Beginning from the Kedar Valle, this river meets the Bhagirathi on its left bank.
Day 05 : Uttarkashi - Guptkashi (215 Kms. Drive 09 - 10 Hrs)
Morning drive to Guptkashi via Moolgarh, Lambgaon. En route visit Tehri Dam. Following continue drive to Guptkashi now is the first time to see the wonderful river Mandakini at Tilwara. Mandakini Drive adjacent the river to transfer Guptakashi late in the evening check in at the Hotel, evening visit Shree Kashi Vishwanath Temple & Ardh Narishwar Temple. Overnight stay at the Hotel.
Day 06 : Guptakashi - Kedarnath (32 Kms Drive, 14 Kms. Treks)
Morning drive to Gaurikund 32 Km from Guptkashi, en route visit sonprayag to view the Confluence of Son Ganga & Mandakini river. On arrival at Gaurikund like a Holy bath in Gaurikund, start 14 Kms trek towards Shree Kedarnath Ji. On arrival check in at the hotel. Evening performs Pooja & Darshan at Shri Kedarnathji. In the evening also visit Adi Shankaracharya Samadhi after the temple. Overnight stay at the hotel.
Kedarnath: The Kedarnath shrine, one of the 12 jyotirlingas of Lord Shiva, is a beautiful place located, upon the backdrop of the sumptuous Kedarnath range. Kedar is the different name of Lord Shiva, the front, and the virus. According to the story, the Pandavas later becoming won over the Kauravas in the Kurukshetra fight, considered evil of becoming killed their own brothers & solicited the blessings of Lord Shiva for salvation. He escaped them frequently & while fleeing took refuge at Kedarnath in the form of a bull. On moving followed he dived within the ground, moving his hump on the outside. The remaining divisions of Lord Shiva seemed at four different sites & are admired there as his demonstrations. The arms looked at Tungnath, the face at Rudranath, the belly at Madhmaheshwar & his locks (hair) with the head at Kalpeshwar. Kedarnath also the four over-mentioned shrines are negotiated as Panch Kedar.
Day 07 : Kedarnath - Pipalkoti (14 Kms trek 145 kms Drive)
Early Morning Pooja at Kedarnath temple. Morning trek down to Gaurikund. Later drive to Pipalkoti, en route sees the excellence of Chopta. On arrival, Pipalkoti check-in at the hotel. Overnight stay at Hotel.
Day 08 : Pipalkoti - Badrinath (72 kms)
Morning drive to Shree Badrinath Ji, en-route visits the Narsingh Mandir, Adi Shankaracharya Samadhi & Hathi Parwat from Joshimath.On arrival, Badrinath check-in at the hotel. Afternoon like a sacred Bath in Narad Kund Darshan of Shree BADRI VISHAL JI, evening visit of Mana village – (the last village before the Tibetan border), also visit Vyas Gufa, Shree Saraswati Temple, Ganesh Temple, Saraswati River, view the wonderful confluence of Saraswati River & Alaknanda River from Mana Village named" Keshavpryag" behind a wonderful tour come back to Hotel, Evening perform Sri Badrinath Ji Arti at the Temple. Overnight stay at the hotel.
Tapt Kund: Natural warm sources on the bank of the river Alaknanda, where it is conventional to bathe before joining the Badrinath temple.
Narad Kund: A suspension in the river, near Tapt Kund, building a pool from where the Badrinath statue was reached.
Brahama Kapal: A smooth stand on the bank of river Alaknanda. Hindus make satisfying sacraments for their deceased ancestors.
Sheshnetra: 1.5 km. away is a fieldstone becoming a consequence of the fabulous snake, famously known as the Sheshnag's eye.
Charanpaduka: 3 km. away is a wonderful meadow wherever the footprint of Lord Vishnu is observed on a rock.
Mata Murty Temple: Dedicated to the mother of Sri Badrinathji. Other major temples include Sesh Netra Temple, Urvashi Temple & Charanpaduka.
Vasundhara: Since the name suggests, Vasundhara is a beautiful waterfall. This place is 5 km. from Badrinath out of which 2 km. is motorable up to Mana.
Mana Village: Populated by an Indo-Mongolian tribe, it is the last Indian village before Tibet.
Bhim Pul: On another surface of Mana village, a heavy rock building a natural bridge extends overhead the roaring Saraswati river. It offers a panoramic scene of water thundering down within the narrow tunnel under the rock also is believed to have been located there by Bhim, the second greatest amidst the five Pandava brothers.
Vyas Gufa (cave): Near Mana Village, this is a rock-cave where Ved Vyas is considered to should be written the Mahabharata & the pauranic explanations.
Day 09 : Badrinath - Rudrapryag (155 Kms)
Morning Pooja & Darshan at the Temple (04:00 A.M. to 07:00 A.M). Later pooja and drive to Rudraprayag, en-route visit Vishnu Prayag, Nandprayag, (Confluence of Nandakini & Alaknanda River) Karanprayag (Confluence of Pinder River & Alaknanda River). On arrival Rudraprayag Check-In at the hotel. Overnight stay at the hotel.
Rudraprayag: It is the confluence of river Mandakini river & Alaknanda river.
Temples : Chamunda Devi, Koteshwar Temple (3 Kms).
Day 10 : Rudrapryag - Haridwar (135 Kms 7 hrs)
Morning drive to Haridwar, en-route visits the Confluence of Bhagirathi river & Alaknanda river named Devprayag from Devprayag onward Bhagirathi river become Holy Ganges. Next visit Devpryag drives towards Haridwar via Rishikesh. On arrival, Haridwar drops you at Railway station to connect train for onward destination.
Tour and Services Ends.
Inclusions
Accommodation on twin sharing basis.
Daily Breakfast & Dinner Veg. only at hotels.
Welcome drinks on arrivals.
News Papers in the vehicle.
Surface transportation by AC Cars (AC will switch off in Hills).
All interstate taxes, permits, parking, road tax, toll taxes and fuel charges etc include.

All government applicable taxes and service charges.
Exclusion
Air Fare / Train Fare.
Personal expenses such as laundry, telephone calls, tips, liquor, boating & joy rides.
All kind of personal expenses such as tips, laundry, telephone bills and beverages, Camera Fees.
Cable Car Tickets, Any meals unless and otherwise specifically mentioned.
Any claim due to road blocks, curfew, accident etc.

Any other items which not specified in "Cost Inclusions ".
how to reach Char Dham Yatra
Places to Visit In Char Dham Yatra