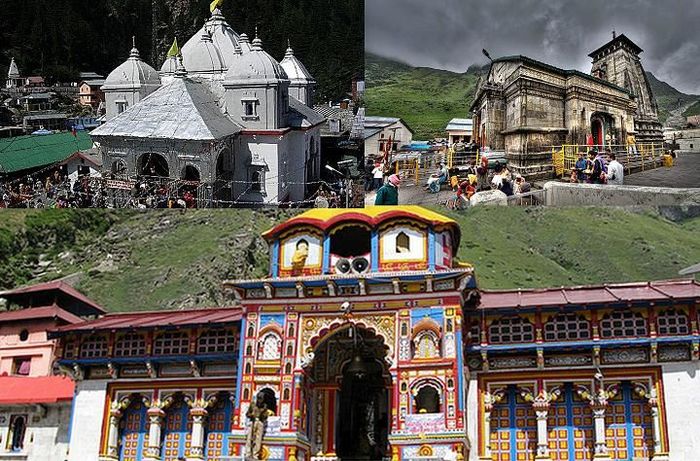 Teen Dham Yatra
Duration 9 Nights / 10 Days Price 0
Package Details
Teen Dham Yatra
The Teen Dham Yatra is a sacred pilgrimage to three of the sacred Teen Dhams. Start on the Spiritual Yatra which is a route to achieving salvation. The holy origin of Ganga, Gangotri, the mountain of Lord Shiva, Kedarnath & abode of Lord Vishnu, Badrinath are the three sacred spot you visit. Devotees from all over the world begin the yatra every year. Welcome given to the religious places of Haridwar, Uttarkashi, Gangotri, Kedarnath, Pipalkoti, Badrinath & Rudraprayag.
Teen Dham yatra package, which includes Gangotri, Kedarnath & Badrinath places. This journey is in the lap of the Himalayas. Badrinath Dham is devoted to Lord Vishnu produced by Adi Shankar in the 9th century. Surrounded by 2 peaks Nar & Narayan. The temple is made a wonderfully shaped cone to an altitude of 5 meters. Kedarnath Dham is devoted to Lord Shiva. It is established on the hill of the Himalaya near the river Mandakini. The Gauri Kund, Gandhi Sarovar, Vasuki Tal & other things that are near Kedarnath Dham. It is built of Shankaracharya by elevated snow-covered peak. Gangotri temple is 3140 meters above from sea level. It is believed that river flowing Ganges starts from Gangotri.
Package Itinerary
Day 01: Delhi - Haridwar (230 Km / 6 to 7 hrs)
On arrival pick up from Delhi Railway Station/Airport, Transfer to Haridwar. On arrival check-in at the Hotel. Relax for a while, After evening visit to Har Ki Pauri on the banks of the Ganga for the Aarti. Overnight stay at the hotel.
Day 02: Haridwar - Uttarkashi (192 Km/ 7 to 8 hrs Journey)
Morning breakfast, Check-out from the Haridwar hotel and drive to Uttarkashi. On arrival check-in to the hotel. Uttarkashi is located on the banks of river Bhagirathi River and is popular for its historical monuments, Temples, and Ashrams. In the evening, Visit the important Vishwanath Temple and Kuteti Devi Temple. Overnight stay at the hotel in Uttarkashi.
Day 03 : Uttarkashi - Gangotri - Uttarkashi (100 Kms. per way)
Early Morning drive to Gangotri, en route at Gangnani, like a holy bath in Garam Kund than drive to Gangotri via excellent Harsil Valley, Harsil is popular for Nature Beauty, sumptuous sense of Deodar Tree & Mountains. On arrival Shree Gangotri, like a holy bath in the divine river, Ganges also called Bhagirathi at its source. Make Pooja & Darshan, behind that rest for some time in the beautiful surroundings. Afternoon drive back to Uttarkashi. Overnight stay at the hotel.
Gangotri Temple: The temple, built by the Gorkha General Amar Singh Thapa in the 18th Century, is established on the right bank of Bhagirathi.
Submerged Shivling: Submerged in the river, this natural rock Shivling is the spot wherever according to religion Lord Shiva sat while he accepted the Ganga in his matted lock. It is obvious in winter months when the water level decreases.
Kedar Ganga Sangam: About 100 Yards from the Ganga Temple continues the river Kedar Ganga. Beginning from the Kedar Valle, this river meets the Bhagirathi on its left bank.
Day 04 : Uttarkashi - Guptkashi (215 Kms. Drive 09 - 10 Hrs)
Morning drive to Guptkashi via Moolgarh, Lambgaon. En route visit Tehri Dam. Following continue drive to Guptkashi now is the first time to see the wonderful river Mandakini at Tilwara. Mandakini Drive adjacent the river to transfer Guptakashi late in the evening check in at the Hotel, evening visit Shree Kashi Vishwanath Temple & Ardh Narishwar Temple. Overnight stay at the Hotel.
Day 05 : Guptakashi - Kedarnath (32 Kms Drive, 14 Kms. Treks)
Morning drive to Gaurikund 32 Km from Guptkashi, en route visit sonprayag to view the Confluence of Son Ganga & Mandakini river. On arrival at Gaurikund like a Holy bath in Gaurikund, start 14 Kms trek towards Shree Kedarnath Ji. On arrival check in at the hotel. Evening performs Pooja & Darshan at Shri Kedarnathji. In the evening also visit Adi Shankaracharya Samadhi after the temple. Overnight stay at the hotel.
Kedarnath: The Kedarnath shrine, one of the 12 jyotirlingas of Lord Shiva, is a beautiful place located, upon the backdrop of the sumptuous Kedarnath range. Kedar is the different name of Lord Shiva, the front, and the virus. According to the story, the Pandavas later becoming won over the Kauravas in the Kurukshetra fight, considered evil of becoming killed their own brothers & solicited the blessings of Lord Shiva for salvation. He escaped them frequently & while fleeing took refuge at Kedarnath in the form of a bull. On moving followed he dived within the ground, moving his hump on the outside. The remaining divisions of Lord Shiva seemed at four different sites & are admired there as his demonstrations. The arms looked at Tungnath, the face at Rudranath, the belly at Madhmaheshwar & his locks (hair) with the head at Kalpeshwar. Kedarnath also the four over-mentioned shrines are negotiated as Panch Kedar.
Day 06 : Kedarnath - Pipalkoti (14 Kms trek 145 kms Drive)
Early Morning Pooja at Kedarnath temple. Morning trek down to Gaurikund. Later drive to Pipalkoti, en route sees the excellence of Chopta. On arrival, Pipalkoti check-in at the hotel. Overnight stay at Hotel.
Day 07 : Pipalkoti - Badrinath (72 kms)
Morning drive to Shree Badrinath Ji, en-route visits the Narsingh Mandir, Adi Shankaracharya Samadhi & Hathi Parwat from Joshimath.On arrival, Badrinath check-in at the hotel. Afternoon like a sacred Bath in Narad Kund Darshan of Shree BADRI VISHAL JI, evening visit of Mana village – (the last village before the Tibetan border), also visit Vyas Gufa, Shree Saraswati Temple, Ganesh Temple, Saraswati River, view the wonderful confluence of Saraswati River & Alaknanda River from Mana Village named" Keshavpryag" behind a wonderful tour come back to Hotel, Evening perform Sri Badrinath Ji Arti at the Temple. Overnight stay at the hotel.
Tapt Kund: Natural warm sources on the bank of the river Alaknanda, where it is conventional to bathe before joining the Badrinath temple.
Narad Kund: A suspension in the river, near Tapt Kund, building a pool from where the Badrinath statue was reached.
Brahama Kapal: A smooth stand on the bank of river Alaknanda. Hindus make satisfying sacraments for their deceased ancestors.
Sheshnetra: 1.5 km. away is a fieldstone becoming a consequence of the fabulous snake, famously known as the Sheshnag's eye.
Charanpaduka: 3 km. away is a wonderful meadow wherever the footprint of Lord Vishnu is observed on a rock.
Mata Murty Temple: Dedicated to the mother of Sri Badrinathji. Other major temples include Sesh Netra Temple, Urvashi Temple & Charanpaduka.
Vasundhara: Since the name suggests, Vasundhara is a beautiful waterfall. This place is 5 km. from Badrinath out of which 2 km. is motorable up to Mana.
Mana Village: Populated by an Indo-Mongolian tribe, it is the last Indian village before Tibet.
Bhim Pul: On another surface of Mana village, a heavy rock building a natural bridge extends overhead the roaring Saraswati river. It offers a panoramic scene of water thundering down within the narrow tunnel under the rock also is believed to have been located there by Bhim, the second greatest amidst the five Pandava brothers.
Vyas Gufa (cave): Near Mana Village, this is a rock-cave where Ved Vyas is considered to should be written the Mahabharata & the pauranic explanations.
Day 08 : Badrinath - Rudrapryag (155 Kms)
Morning Pooja & Darshan at the Temple (04:00 A.M. to 07:00 A.M). Later pooja and drive to Rudraprayag, en-route visit Vishnu Prayag, Nandprayag, (Confluence of Nandakini & Alaknanda River) Karanprayag (Confluence of Pinder River & Alaknanda River). On arrival Rudraprayag Check-In at the hotel. Overnight stay at the hotel.
Rudraprayag: It is the confluence of river Mandakini river & Alaknanda river.
Day 09 : Rudrapryag - Haridwar (135 Kms 7 hrs)
Morning breakfast, Check-out from the hotel & drive to Haridwar. En route you can see Ma Dhari Devi Temple, Dev Prayag (Sangam of Alaknanda River & Bhagirathi River) From this place, From here, these two rivers are called the Ganges. Later back proceed towards Rishikesh for sightseeing visit Ram Jhula, Laxman Jhula, Swarga Ashram & Triveni ghat etc. Evening back to Haridwar On arrival check-in to the hotel. In evening go get part in aarti perfumed at Har-ki-Pauri. Later aarti darshan and return to the hotel for overnight stay.
Day 10: Hardwar - Delhi (225 kms/6-7hr)
After breakfast, Check-out from the hotel. On arrival at Delhi, proceed to Airport / Railway Station for onward journey
Tour and Services Ends.
Inclusions
Accommodation on twin sharing basis.
Daily Breakfast & Dinner Veg. only at hotels.
Welcome drinks on arrivals.
News Papers in the vehicle.
Surface transportation by AC Cars (AC will switch off in Hills).
All interstate taxes, permits, parking, road tax, toll taxes and fuel charges etc include.
All government applicable taxes and service charges.

Exclusion
Air Fare / Train Fare.
Personal expenses such as laundry, telephone calls, tips, liquor, boating & joy rides.
All kind of personal expenses such as tips, laundry, telephone bills and beverages, Camera Fees.
Cable Car Tickets, Any meals unless and otherwise specifically mentioned.
Any claim due to road blocks, curfew, accident etc.
Any other items which not specified in "Cost Inclusions ".

Important Notes
Payments policy

25% Amount at the time of booking. 100% Amount 15 days or earlier, before travel date. Payment by cheque or online payment facility available. Your booking confirmation number will be provided to you.

Tour Cancilation policy

Strictly depends upon concerned hotel's cancellation policy
Minimum Cancilation charges before 10days of Travel Date is 10% of package cost
Terms & Conditions
Package cost will change if opted for guide service, choice of transport vehicle, hotel type change
Accommodation charges as mentioned in the package are with 2 persons staying together sharing the same room
Extra persons in same room charges extra
Altough we ensure you the best experience but unfortunate delays in travel and inefficient service of hotel is the responsibility of the respective parties.
Best Time To Visit char dham yatra
how to reach Char Dham Yatra
Places to Visit In Char Dham Yatra