Kagbhusandi Lake Trek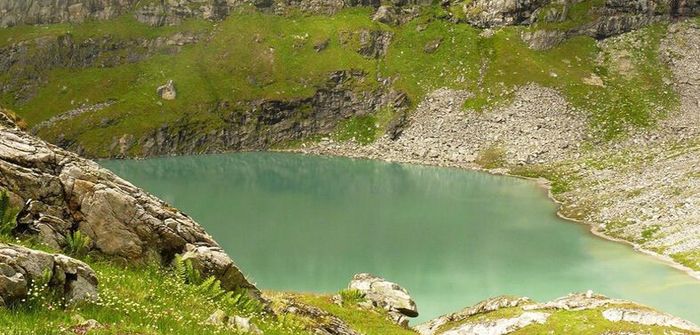 Duration 06 nights/ 07 days Price 0
Kagbhusandi Lake Trek
Kagbhusandi Lake is an ancient natural lake situated near Govindghat in Chamoli district. This lake is situated in the lap of Hathi Parvat at an altitude of about 6720 meters above sea level. To reach here, at Bhyundar village leaving the path of the valley of flowers and after crossing Laxman Ganga, on the right one goes to another valley. The journey to the lake passes through beautiful green forests, meadows and glaciers. According to legend, Kagbhusandi is a character of Ramacharitamanas, which was a wise and a devotee of Lord Rama. Lord Shiva sent to this place nigh to Kagbhusandi Ji to remove the suspicion of Garuda. In the end, Kagbhusandi Ji put away the suspicions of Garuda by listening to the sacred story of Ram's character. Due to the curse of Lomash Rishi, was the Kagbhusandi had become a crow. Lomash Rishi gave a boon to Ram Mantra to get him out of the curse. At this place, he spent his entire life as a crow. Regarding Lake Karkhusundi, it is believed that there is a large number of crows go to this place to die. Although no one has seen the dies of the crows at this place, But here wings of crows are seen. 'Kag' is a Sanskrit word, which means crow.
Package Itinerary
Day 1 :- Rishikesh - Joshimath (Drive- 256 km / 8 hrs)
Day 2 :- Joshimath - Govindghat (Drive 20 km/ 1 hrs) - Bhyundar Village - Roop Dhungi (Trek 12 km/ 05 hrs)
Day 3 :- Roop Dhungi - Samartoli - Raj Kharak (Trek 14 km/ 06 hrs)
Day 4 :- Raj Kharak - Kagbhusandi Lake (Trek 06 km/ 03 hrs)
Day 5 :- Kagbhusandi - Panch Vinayak - Brahmakund (Trek 08 km/ 03 hrs)
Day 6 :- Brahamkund - Painka Village (Trek 17 km/ 06 hrs) - Joshimath (Drive 20 km/ 01 hrs).
Day 7 :- Joshimath - Rishikesh (Drive- 256 km / 8 hrs)
how to reach Rishikesh
Places to Visit In Rishikesh