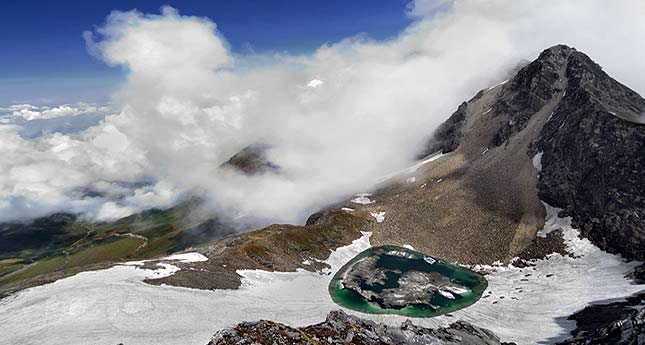 Roopkund Trek
Duration 6 Night/ 7 Days Price 0
Package Details
Roopkund Trek
Roopkund, in the state of Uttarakhand in India, is a famous glacial lake. This lake is famous due to more than five hundred skeletons of humans that are found at the edge of the lake. It is located in the Himalayas and rests at an altitude of nearly 4,800 meters. Roopkund is located in the Chamoli district of Garhwal. It is one of the best sites for trekking in Garhwal. Roopkund is one of the major adventure attractions for people in the country and also for people who are travelling from abroad. Roopkund, which is located in the lap of Trishul massif is also known as the 'mystery lake'. You can find human skeletons at the bank of the lake and it is believed that they belong to the Palaeolithic age.
These are believed to be the skeletons of the heroes who had fought here in the earlier times. Along with the skeletons of humans, you can also find skeletal structure of horses and other animals. There are reports that these skeletons belong to the 12th century to the 15th century. It is believed by specialists that the death of many people in this region was a result of landslides, blizzard or an epidemic. Most attractive for the human skeletons lying at the bottom of the lake, which are distinctly visible when the snow melts, the lake is swarmed by plenitude of visitors.The route along this trek is a fascinating journey of discovering the most pristine of Himalayan contribution of oak and blooming rhododendron forests.
Package Itinerary
Roopkund trekking
beautiful treks in roopkund
Roopkund trek,Roopkund trek,
Day 01: Rishikesh - Mundoli ( 215 kms/ 7-8 hrs)
Drive to Mundoli via Dev Prayag, Rudra Prayag and Karanprayag. Arrival at Mundoli by evening. Dinner and overnight stay in Camps.
Day 02: Mundoli - Wan - Bedni Bugyal (3350 mts/11000 ft)
In the morning drive 10 kms to Wan, which is the road head for the trek. Today we will trek 11 km (5-6 hrs) to reach Bedni Bugyal, probably one of the best camping sites in the Garhwal Himalayas. Dinner and overnight stay in Camps.
Day 03: Bedni Bugyal
Rest day for acclimatization/Exploratory day. Bedni Bugyal: Bedni Bugyal is a charming green meadow adorned with flowers in a spell binding varieties, in full bloom. There is a small lake situated in the midst of the meadow, where Tarpans are offered by the devotees. Situated nearby is a small temple where the devotees pay there obeisance, during their halt at Bedni Bugyal. Overnight in Camp.
Day 04: Bedni Bugyal - Bagubassa (4100 mts/13450 ft)
After breakfast trek to Bagubassa. Bagua means flowery park and Basa means place. And rightly the place was full of variety of flowers including the rare Bhram Kamal, a special godly lotus found at only and between the altitudes of 14000 - 15000 ft. Today we will trek 10 km, taking about 4-5 hrs to reach today's campsite at Bagubassa. Dinner and overnight in Camp.
Day 05: Bagubassa - Roopkund (4450 mts/14600 ft) - Bedni Bugyal
Bhagubasa to Roopkund is easy walking in the flat but in morens ½ hour climbing with same view as last day. (4-5 hours). Kaluka Vinayak (pass) descending till to patar nachwani. The trek to Roopkund passes through delightful alpine pasture lands and snow fields, offering magnificent views of the Trisul, Nanda Ghunti, Badrinath peaks when the snow melts, human and equine skeletons remains can be seen. Some of them with flesh attached. These remains have been preserved in the alpine condition for centuries. It is believed that these are the remains of about 300 persons who died about 500 -600 years ago. In the afternoon trek back to Bedni Bugyal for dinner and overnight stay.
Day 06: Bedni Bugyal - Wan (2436 mts/8000 ft)
Retrace your steps towards Wan. This will take 3-4 hrs. Dinner and overnight in tents.
Day 07: Wan - Rishikesh (2200 mts /7200 ft)
After an early breakfast drive to Rishikesh. Lunch enroute. Arrival at Rishikes tour end.
Inclusions

1. Accommodation. (Guest house, Home stay, Camping)
2. Meals while on trek (Veg.+ Egg)
3. Trek equipments (Sleeping bag, mattress, Kitchen & dinning tent, crampon, utensils, tent)
4. All necessary permits and entry fees.
5. First aid medical kits, stretcher and oxygen cylinder.
6. Mountaineering qualified & professional trek Leader, guide and Support staff.
7. Services from Loharjung to Loharjung.
8. Staff insurance.
Exclusion

1. Any kind of personal expenses.
2. Food during the transit.
3. Insurance.
4. Mules or porter to carry personal luggage.
5. Anything not specifically mentioned under the head.
Important Notes
Payments policy

25% Amount at the time of booking. 100% Amount 15 days or earlier, before travel date. Payment by cheque or online payment facility available. Your booking confirmation number will be provided to you.

Tour Cancilation policy

Strictly depends upon concerned hotel's cancellation policy

Minimum Cancilation charges before 10days of Travel Date is 10% of package cost

High Altitude Treks: Risk and Response A high altitude trek calls for an adventurous attitude, but embarking on an adventurous trip without calculating the risks is utter stupidity. That's why we have listed a few risks and the response planned by TTH to minimise or address the risks in the best possible way.

Risk: Altitude Before you start the trek, it is important to understand the implications of high altitude on your body. Be aware of symptoms of AMS (Acute Mountain Sickness) like mild headache, nausea and general discomfort.

Response: If you feel any of these symptoms, inform the trek leader on priority and follow his instructions. Every campsite has as stretcher, fully equipped first aid kit, oxygen cylinders to address the situation.

Risk: Weather Weather is unpredictable in the Himalayas. Though we are always observant about the changing weather, no one can guarantee a snowfall, rain or Sun. Do understand that your security is of utmost importance to us and we will not proceed any further from the campsite if the weather is not favourable.

Response: The decision of the Trek Leaders and Guides to proceed or wait for the weather to get better will be final.

Risk: Injuries Often, while trekking over difficult terrains, you might h
Terms & Conditions
Package cost will change if opted for guide service, choice of transport vehicle, hotel type change
Accommodation charges as mentioned in the package are with 2 persons staying together sharing the same room
Extra persons in same room charges extra
Altough we ensure you the best experience but unfortunate delays in travel and inefficient service of hotel is the responsibility of the respective parties.
Best Time To Visit rishikesh
how to reach Rishikesh
Places to Visit In Rishikesh