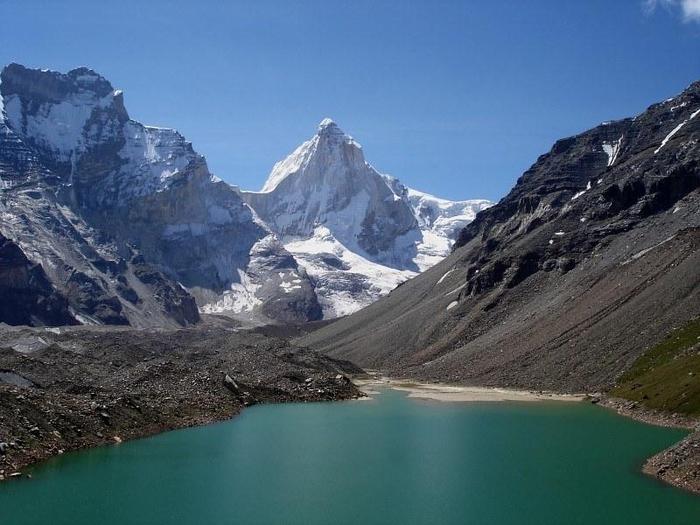 KedarTal Trek
Duration 05 Nights/ 06 Days Price 0
Package Details
Kedar Tal Trek
Kedar Tal is a glacial lake situated in Garhwal Himalaya area of Gangotri. Kedar Tal is at an altitude of 4750 meters. This tal is about 17 km from Gangotri. This tal offers views of beautiful snowy peaks nearby. Kedar Tal is an ideal place for trekking lovers. The journey of Kedar Tal begins from Gangotri. There is a 17 km travel on foot from Gangotri to Kedar Tal, this is one of the popular treks in the Himalayan region of Garhwal. In the route of the journey, there are dense forests of pine and deodar, apart from this, there are also beautiful alpine grasslands in the route. Walking on this route is a bit difficult because this route has to go through pebble stone and high rocks. But after reaching Kedar Tal, there is a different happiness. This place is not less than a paradise for Trekkers.
Package Itinerary
Day 01: Dehradun - Gangotri (Drive- 242 km / 8 hrs)
On arrival pick up from Dehradun Airport/Railway Station, transfer to Gangotri via Mussoorie. During the journey, you can enjoy the stunning view of Garhwal peaks. Evening and overnight stay at hotel.
Day 02: Gangotri - Bhoj Kharak (Trek 08 km /4 hrs)
After breakfast begins the trek towards Bhoj Kharak. The 8 km long trail goes by the banks of Kedar Ganga River and consists of a dense cover of deodar and Bhoj Patra forests. Dinner and overnight stay in camps at Bhoj Kharak.
Day 03: Bhoj Kharak – Kedar Kharak (Trek 05 km /2 hrs)
After breakfast in the morning, we will trek to Kedar Kharak, which is about 5 km away. However, the route is little exhausting due to various steep climbs that will come on the way. We will be crossing through the forest and reach the stunning meadows, where our camp will be set to relax, Dinner and overnight stay in camps at Kedar Kharak.
Day 04: Kedar Kharak - Kedar Tal - Kedar Kharak (Trek 10 /5 hrs)
After breakfast, we will trek from Kedar Kharak to Kedar Tal. The route goes through the routs with scattered loose rocks and boulders. They will get an opportunity to witness the most excellent works of nature. On reaching Kedar Tal, we will explore the beautiful lake with magnificent Thalay Sagar Peak located behind it. Back to Kedar Kharak, Dinner and overnight stay in camps at Kedar Kharak.
Day 05: Kedar Kharak - Gangotri (Trek 13 - 6 hrs)
Early breakfast we will trek down to Gangotri. On arrival check in to the hotel. Dinner and overnight stay at Gangotri in the hotel.
Day 06: Gangotri - Dehradun (Drive- 242 km / 8 hrs)
After breakfast check out from the hotel. On arrival at Dehradun, proceed to airport/railway station for onward journey Tour End.
Important Notes
Payments policy

25% Amount at the time of booking. 100% Amount 15 days or earlier, before travel date. Payment by cheque or online payment facility available. Your booking confirmation number will be provided to you.

Tour Cancilation policy

Strictly depends upon concerned hotel's cancellation policy
Minimum Cancilation charges before 10days of Travel Date is 10% of package cost
Terms & Conditions
Package cost will change if opted for guide service, choice of transport vehicle, hotel type change
Accommodation charges as mentioned in the package are with 2 persons staying together sharing the same room
Extra persons in same room charges extra

Altough we ensure you the best experience but unfortunate delays in travel and inefficient service of hotel is the responsibility of the respective parties.
how to reach Dehradun
Places to Visit In Dehradun